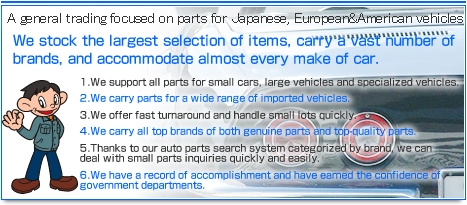 We provide a stable supply of auto parts to about 400 companies. These include repair shops, parts dealers, auto dealers, makers of specialized vehicles, and government offices.
ISO 9001 registered

FS504017 / ISO 9001:2008


1)We have years of experience supplying parts, equipment, machinery, and tools to buyers such as repair shops.
2)We also provide a quick response if you are looking for specialized parts such as rare, hard-to-find parts for Japanese,European and American vehicles.

1)Parts for large vehicles used by bus companies, shipping companies, and warehousing companies
2)Parts for specialized vehicles such as heavy machinery, construction machinery, forklifts and customized vehicles
3)Parts for specialized public vehicles such as police cars and fire trucks.

1)We supply Japanese auto parts worldwide.
2)We offer both negotiating power and advantageous delivery terms.
3)We deal with small lots.